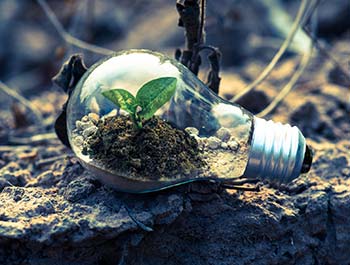 What is Net zero?
Achieving net zero means cutting greenhouse gas emissions to as close to zero as possible, with any remaining emissions re-absorbed from the atmosphere through the natural process via oceans and forests for example.
Is Net Zero important?
Science has shown that in order to avoid the worst impacts of climate change on our planet, global temperature increase needs to be restricted to a maximum of 1.5°C above pre-industrial levels. At present our planet is about 1.1°C warmer than it was in the late 1800s, with emissions continuing to rise. The breakthrough Paris Agreement stated that emissions need to be reduced by 45% by 2030 and reach net zero by 2050.
How can Net Zero be achieved?
A complete transformation of how we travel, manufacture and consume is required. For example, replacing coal, gas and oil powered energy with renewable sources, such as wind or solar, would dramatically reduce carbon emissions.
Can lighting help achieve Net Zero?
It's reported that lighting accounts for nearly 5% of global CO2 emissions, so the net result in switching the world's lighting to LED is positively massive to the tune of thousands of millions of tons of CO2. Merely upgrading your lighting to LED will contribute to the global target.
How are Universal Lighting contributing to the net zero effort?
Here at Universal Lighting we are committed to remaining carbon neutral and use our electric Nissan van for local deliveries. We use DPD as our main carrier provider who deliver to the rest of the UK for us. DPD are committed to be the cleanest greenest delivery provider in the UK, with a fleet of electric vehicles and their net zero target initiative. Our electricity supplier provides 100% renewable electricity. We are a net exporter of energy, with an array of solar panels powering our business and exporting back into the grid. Our showroom which has hundreds of displayed illuminated lights on view uses only energy efficient LED light sources controlled by movement sensors, which save even more energy during the day. Our packing team use sustainable biodegradable cardboard cartons for our packaging and reuse them whenever possible.
Which products will contribute to the Net Zero target?
The good news is that all of our LED products can help achieve the target. Our LED lights and bulbs have a stated lumen value within the specification section on the web page. The lumen is the unit of measure of the total quantity of light, so by comparing the lumen value with the number of watts (power) consumed, you can quite easily calculate the energy you are potentially saving. The example comparison below will show you the advantage of switching.
| | | |
| --- | --- | --- |
| | Traditional 60w Incandescent Light Bulb | Modern 8w LED |
| Lumen Output (Light) | 800 | 800 |
| Wattage | 60w | 8w |
| Lumen per Watt | 13lm | 100lm |
The Energy Saving Trust have stated that for every traditional halogen bulb switched to a similarly bright LED bulb you save around 5kg of CO2 emissions every year. By replacing all bulbs in your home with LED alternatives, that's around 63kg of CO2 emissions a year saved per household. If all 28 million homes in Britain switched to 100% LED bulbs, we could save 1.7 million tonnes of CO2 emissions annually. These are incredible strides in energy efficiency that could be improved on year on year.
Look out for our ever expanding Hand Made British Lighting ranges which are supplied to us by energy conscious craftsmen and women. By limiting the distance it has traveled to reach you, you will be contributing to the net zero target by buying a product with a much smaller carbon footprint. Products manufactured half way around the world have a much larger carbon footprint. The future is indeed bright, and much more energy efficient that it has ever been before.
Will LED lighting lower my bills?
Replacing your halogen bulbs with LED will lower your electricity bills. A government white paper estimates that switching to more efficient lighting can save a household around £2,000 to £3,000 over the lifetime of the bulbs, depending on the size of the home.
Summary
By choosing energy efficient lighting or bulbs from Universal Lighting, you can do your bit to help the nett Zero target and save on your energy bills. Rest assured that from the moment your order is placed, your order will be carefully packaged and delivered with maximum customer service and the minimum of carbon emissions. Together, we can all help achieve net zero and help secure the future of our planet.