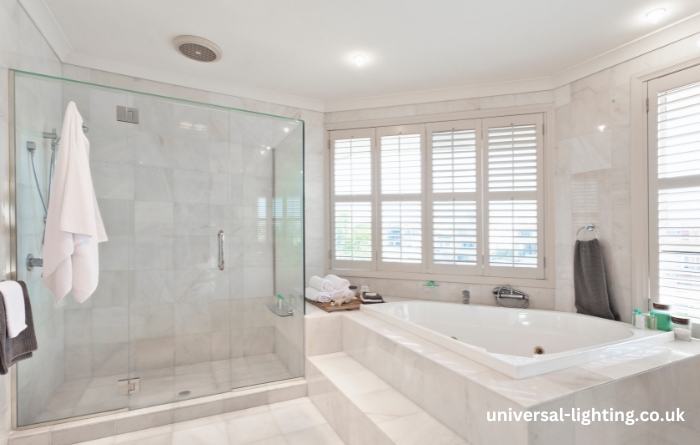 The IP rating for bathroom lights indicates how well a light fixture is protected against water and dust. 'IP' stands for 'Ingress Protection,' and the accompanying numbers specify the level of protection against solid objects and liquids. In a bathroom setting, an IP rating helps you choose lights that are both safe and functional, depending on their placement in different zones of the bathroom.
In a bathroom, you should generally aim for a light with at least an IP44 rating. Here's a quick guide to what these numbers mean:
IP44: This is the minimum rating you'll want for your bathroom. It means the light is splash-proof and can handle a bit of water.
IP65: If you want something a bit more robust, go for this. It's dust-tight and can even cope with water jets.
IP67: This is the one to pick for areas near the shower or bath. It's safe for immersion in water up to 1 metre deep.
Understanding these ratings can help you make a safer, and smarter, choice for your bathroom lighting.
Find The Perfect Bathroom Lights With Universal Lighting
Are you scratching your head over what IP rating you need for your bathroom lights? Don't worry, we can help. At Universal Lighting, we know our bulbs from our bath bars, and with a range of over 13,000 lighting options for every room in your home, we have plenty of options for you to choose from.
Whether you're looking for mood lighting, functional, spotlights or something more extravagant, read on to understand why IP ratings are crucial when it comes to picking the perfect bathroom lights, how to make sense of those numbers and tips for selecting lights based on their location in your bathroom.
What Does IP Rating Mean?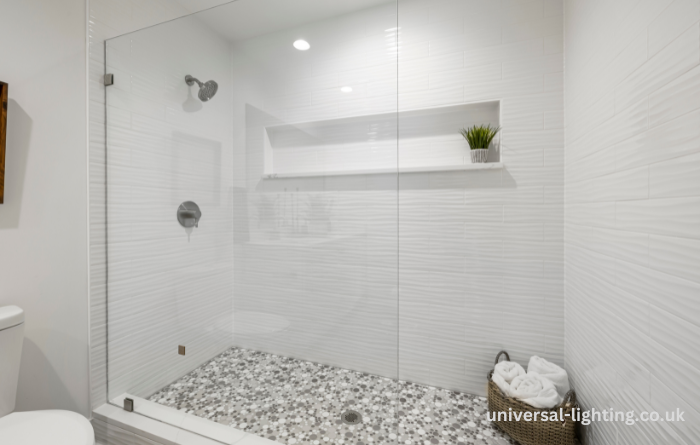 IP stands for Ingress Protection. This is a standard that's used worldwide to indicate how resistant a product is to environmental conditions like water and dust. It's a quick way to know if a product can stand up to the conditions in a specific space, like your bathroom.
An IP rating usually comes with two digits. The first digit tells you about protection against solids, like dust, while the second digit deals with protection against liquids, usually water. So, when you see a rating like IP44, the '4' for solids means it's protected against objects bigger than 1 mm, and the second '4' for liquids means it's protected against splashing water from any direction.
The Importance of IP Rating For Bathroom Lighting
So why is IP rating important in bathroom lights? Safety and building regulations compliance.
Bathrooms are wet spaces by nature with plenty of water splashing around which is a hazard when electricity is involved. Using light with the wrong IP rating can be a real safety risk, even leading to electrical shocks or fires.
Building regulations in the UK also specify that bathroom lights need to have a certain minimum IP rating, depending on their location in the bathroom. Typically, an IP44 rating is the bare minimum you'd want for a bathroom light, but areas like showers or baths might require a bathroom ceiling with a higher rating, such as IP65 or IP67. These regulations exist to make sure everyone stays safe.
How to Choose the Right IP Rating In Your Bathroom
So you're clued up on what IP ratings mean and why they're important, but how do you go about choosing the right one for your bathroom? This is where bathroom zones come into play. Each bathroom zone is an area in your bathroom that has different requirements when it comes to IP ratings based on their proximity to water sources. These zones are defined by distances, and the IP (Ingress Protection) ratings suitable for each zone vary accordingly.
Zone 0: This is inside the bath or shower itself and is likely to be the wettest area of the room. Any fitting used here has to be low voltage and should have an IP rating of at least IP67.
Zone 1: The area above the bath or shower up to a height of 2.25m from the floor. Here, you'd want a minimum IP rating of IP65.
Zone 2: This area stretches 0.6 metres outside the perimeter of the bath and to a height of 2.25 metres from the floor. In this zone, an IP rating of IP44 is sufficient.
Ceiling lights are generally used for overall ambient lighting and would typically require a minimum IP44 rating, especially if they're positioned away from wet zones. Spotlights are great for targeted lighting, say, over a vanity or a shower area, and would usually require a higher IP rating like IP65.
Bathroom Wall lights are ideal for creating a softer, mood-enhancing glow and work well with an IP44 rating when placed in general zones. Mirror lights, often situated very close to water sources like a wash basin and taps, generally require a higher rating, such as IP65, to ensure they're resistant to splashes and moisture.
By choosing the right type of light with the appropriate IP rating, you can safely and stylishly brighten each of your bathroom lighting zones. If you want to learn more about what each zone entails, view our guide on Bathroom Light Zones.
Balancing Safety with Aesthetics
While safety is paramount when it comes to getting the right lighting in your bathroom, you don't have to compromise on style. You might be thinking that lights with higher IP ratings are all function and no form, but that's far from the truth.
Nowadays, manufacturers are increasingly focusing on creating fixtures that not only meet safety standards but also add a touch of elegance to your bathroom. From sleek LED strips with high IP ratings suitable for modern interiors to classic lamp fixtures that give off vintage vibes, there is plenty to choose from to suit your style and taste.
Examples of Bathroom Lights Based on IP Ratings
We understand that your bathroom is not just a utilitarian space; it's also a sanctuary where style meets function. That's why we aim to offer products that cater to both these needs. We've selected a few examples that would work in each zone of the bathroom, but there are plenty more to choose from right here.
IP67 Lights: Perfect for Zone 0 areas, these lights are ideal for direct installation in your bath or shower and are totally immersion-proof.
IP65 Lights: These are a great fit for Zone 1 spaces, like just above your shower. From chic, ceiling-mounted dome lights to wall-mounted sconces, you'll find a style that complements your décor.
Brushed Chrome GU10 Bathroom Shower Down Light IP65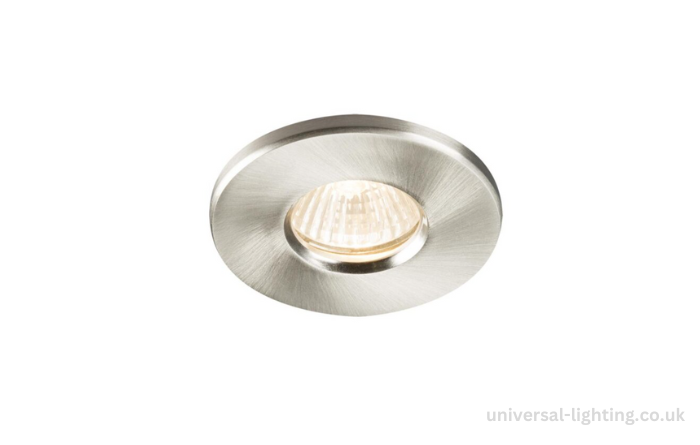 Key Features:
Brushed chrome finish for a modern look
IP65 rating for high water resistance
Accepts standard GU10 LED or halogen lamps, max wattage 35w
Diameter: 84mm, Fitting Height: 29mm
1-year general guarantee for peace of mind
Looking for a sleek and safe lighting option for your bathroom? Consider our brushed chrome finish GU10 bathroom shower downlight. Not only is it stylish, but it's also rated IP65, making it an ideal choice for bathroom zones 1 and 2, including above your shower and in wet rooms. This downlight is constructed from die-cast aluminium and can accommodate both halogen and LED GU10 lamps up to 35w. Plus, it's mains voltage, meaning no transformer is required.
Please note: This product is not fire-rated and is unsuitable if you have living accommodation above your bathroom.
Check out the full product details here.
IP44 Lights: These are your go-to for Zone 2 areas or general bathroom use. Think elegant chandeliers for a touch of luxury or simple pendant lights for a minimalist approach.
Kristen Crystal 3 Light Flush Bathroom Ceiling Light Chrome IP44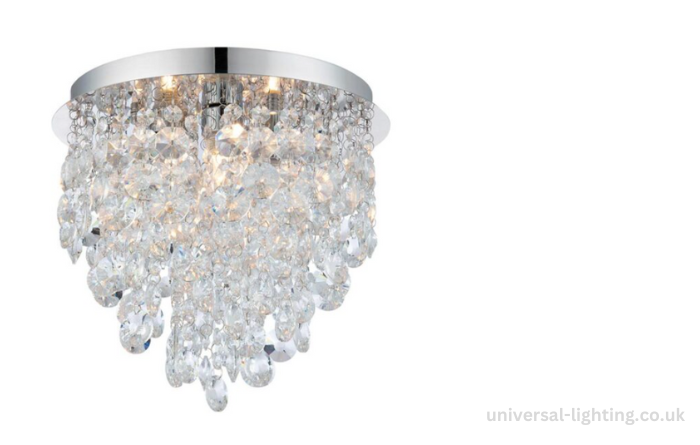 Looking to add a touch of luxury to your bathroom? Our Kristen crystal 3 light flush mount ceiling light in polished chrome is not only stylish but also specifically designed for bathroom use. This IP44-rated fixture is fully splash-proof, making it perfect for bathroom zones 1 and 2. Manufactured by Endon Lighting, leaders in design and innovation, this light fixture is the epitome of style meets function.
Key Features:
Polished chrome plated steel with clear faceted crystal for that extra sparkle
Compatible with LED lamp bulbs for energy efficiency
Dimmable feature for creating the right ambience
Ideal for bathrooms with low ceilings
Comes with a 2-year warranty for peace of mind
The cascade of strung crystal drops shimmer beautifully, dispersing light to create a sparkling atmosphere. Dive into the full details here.
Axis LED Picture Light Style Bathroom Mirror Light Chrome IP44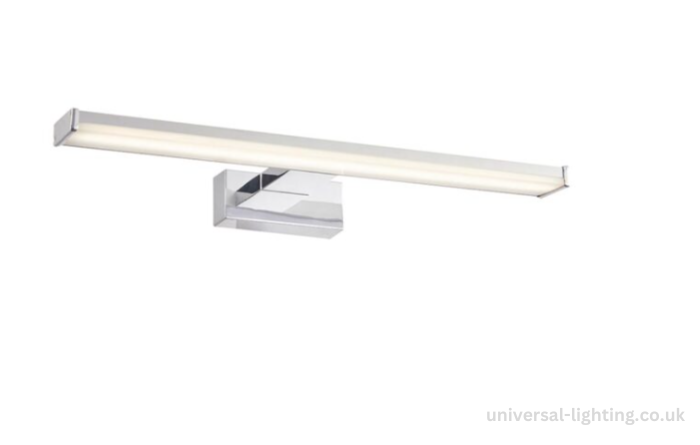 Introducing the Axis LED picture light style bathroom mirror light, the perfect blend of modern design and functionality. With its polished chrome finish and sleek, streamlined design, this IP44-rated light fixture is ideal for both modern and traditional bathroom setups.
Key Features:
Frosted & chromed ABS plastic for durability
Integrated control gear for ease of use
Energy-efficient 8W LED module (SMD 2835) in Daylight White
Produces 640 lumens of light, perfect for precise tasks like shaving or applying makeup
IP44 rating ensures it's splash-proof and suitable for bathroom zones 1 and 2
Comes with an extended 2+3 years warranty for peace of mind
Can I Install Lights with Lower IP Ratings in My Bathroom?
You might be tempted to cut corners and go for lights with lower IP ratings, especially if they fit perfectly with your bathroom's aesthetic, but this is not recommended and can be dangerous. Lights with insufficient IP ratings are not designed to handle the moisture levels in bathrooms. This could lead to issues like short circuits, electrical shocks, or even fires. So, while that non-IP-rated chandelier might look great in a catalogue, it's not worth the risk in a bathroom setting. Always instruct a qualified electrician to install and repair your bathroom lighting.
How to Maintain Bathroom Lights for Safety?
Regularly check for signs of wear and tear like frayed wires or deteriorating seals. A monthly cleaning can go a long way, but be sure to switch off the electricity before you start. Dust and wipe down the fixtures with a dry or slightly damp cloth, avoiding any electrical parts. Following these simple steps will ensure that your lights are not just stylish but safe for years to come.
Are There Special IP Ratings for Shower Lights?
If you're specifically looking for shower lights, you might have noticed that some products are marked as 'shower lights' rather than just bathroom lights. These typically come with higher IP ratings like IP65 or even IP67, due to the more rigorous requirements for these areas. Showers are naturally wetter and more humid than other parts of the bathroom, making it crucial to opt for a higher IP rating. Make sure to consult the product description and, if in doubt, always opt for a higher IP rating to be on the safe side.
Summary
Understanding the IP rating for bathroom lights is crucial for ensuring a safe and functional environment. The 'IP' stands for 'Ingress Protection,' and the numbers that follow indicate the level of protection against water and dust. Different zones within the bathroom or wet room require different IP ratings, making it essential to choose the right lights for each area. At Universal Lighting, we offer a broad range of lights that meet these safety requirements without sacrificing style, allowing you to create a bathroom space that is both safe and aesthetically pleasing.