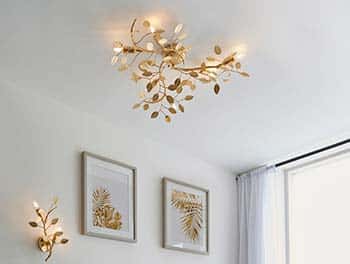 Got Low Ceilings? Take a look at your options…
There's no reason to feel confused or worried about how you are going to illuminate your modern home or any room with low ceilings. This expert lighting guide shows you how to light a low ceiling room and transform it into a bright, airy and attractive space on budget.
Any room with a ceiling height of 2.4m or less is considered to be low. Loft conversions, basements, rooms with false ceilings and modern houses can all be easily furnished but when it comes to lighting, your choice can feel limited. The low height excludes most hanging ceiling lights and chandeliers but don't worry, there are lots of alternatives. You should consider using a combination of flush or semi flush ceiling lights, wall lights and floor and table lamps to light the space. The clever use of different lighting types can make your rooms appear larger and the ceiling seem higher.
Layered Light is Key
So, what do we mean by layered light? Put simply, it means lighting the whole room with different layers, such as a ceiling light, wall light(s) and floor and table lamps. This strategy includes ambient, task and accent lighting and will work in any room no matter how large or small. Pendants and chandeliers can be used but you must consider where they hang down. Over a dining table or kitchen island are great places to use them and they look fantastic. You should avoid placing a low hanging light anywhere that people will walk below.
Flush Ceiling Lights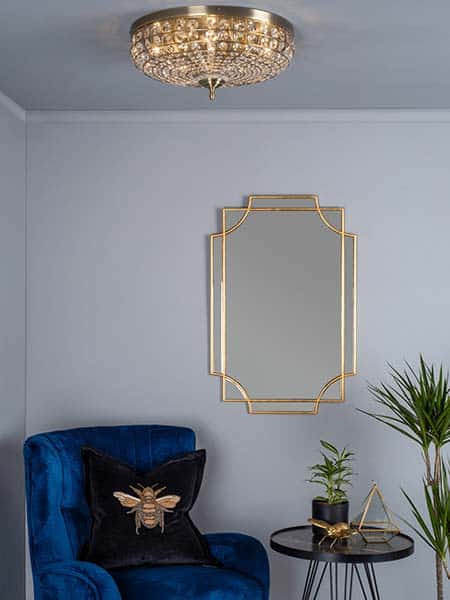 Older houses have high ceilings which give an impression of grandeur and opulence. Entrance halls were often large in comparison to the rest of the house and would have tall ceilings of 10ft or more to create an impression of space. Heating the home became more expensive over time, so the height was reduced to save energy.
Flush ceiling lights used to be really simple offerings, with opal etched or patterned glass housing a bulb or two. They were generally used in utility rooms, home office or the downstairs loo. With more and more homes being built with lower ceilings, the choice has grown and now we have a greater variety of flush mounted lights to suit every type of decor.
Don't think just because you are going for a flush fitted ceiling light that you should compromise on style. Just one look at the Asmara flush ceiling light in antique brass with crystal insets should be enough to reassure you that Flush ceiling lights can be stylish.
Semi Flush Ceiling Lights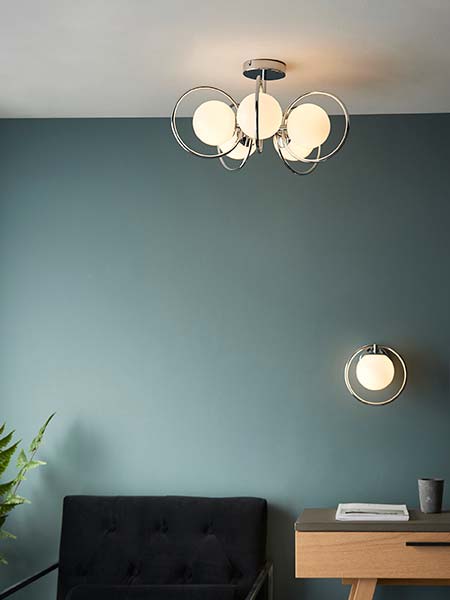 The 1970's saw the introduction of more energy efficient homes, with ceilings at around 2.4m, although some very recent builds can be even lower. This made it difficult to install a hanging fittings in such limited space and gave home owners a more limited choice of light fittings to choose from.
Semi flush ceiling lights differ slightly from flush lights. Both are low profile with flush lights sitting flush to the ceiling, while semi flush lights have a small gap between the light fixture and the ceiling. The fixture is usually attached to the ceiling mount by a drop rod.
Semi flush lights are ideal for any room with low ceilings because they take up minimal vertical space and provide an ample light spread without protruding too far. They are versatile and are commonly installed in bedrooms, hallways living and dining rooms. They provide attractive and functional lighting while maintaining a sleek appearance, so you don't have to compromise on style.
Where to Use Pendant Lights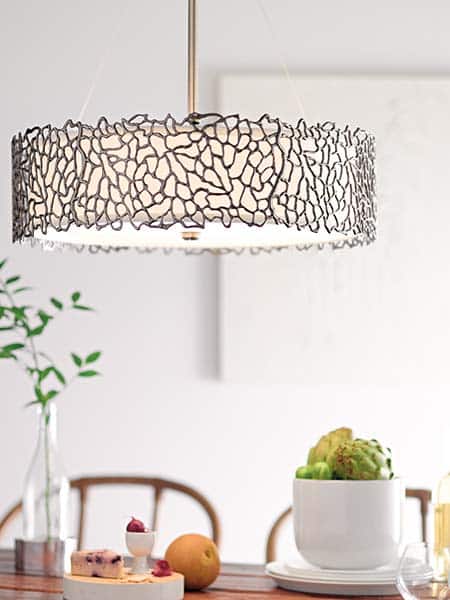 Placing a pendant light in any low ceiling room must be done with care and planning. The obvious choice would be in the stairwell where you would benefit from the double height, but there are plenty of other options too.
If you have a fixed object in your room such as a bed, corner chair, desk or dining table, then you have the option to hang a pendant light over them. Remember that the object needs to be fixed and if it's moved somewhere else, the pendant will likely need to be replaced with something else.
The ideal areas for pendants are over a bed, kitchen island or dining table because they look stunning and the furniture usually stays in the same place for a long time.
Choose your ceiling pendant carefully. Avoid those that are large or have a long drop and aim for something that has adjustable height.
Use Wall Lights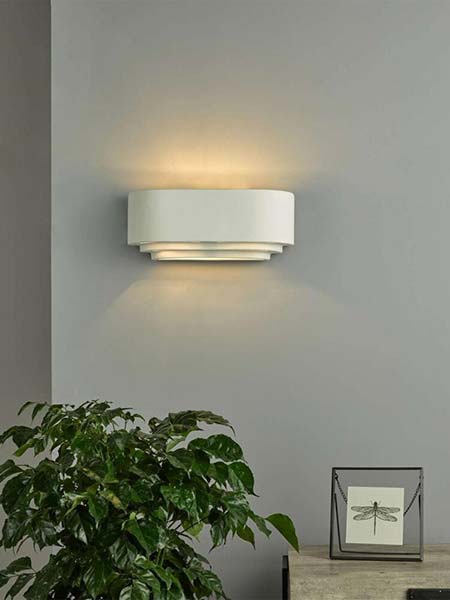 Wall lights are sometimes used exclusively to light rooms with a low ceiling. Although they can illuminate the room, it's not a great idea as it will leave you with shadows and unlit areas.
Stylish wall lights are invaluable to the overall lighting scheme and when used correctly can create warmth and atmosphere.
Plaster wall washer lights are a great choice and direct light up onto the ceiling and back down into the room. This draws the eye away from the ceiling and gives an impression of height.
Wall lights should be positioned at such a height so as not to cause glare to the user. This would normally mean positioning your wall lights at about eye level when standing.
Wall lights behind a sofa or chair can double as reading lights and look fantastic either side of a chimney breast or fireplace.
Use Floor and Table Lamps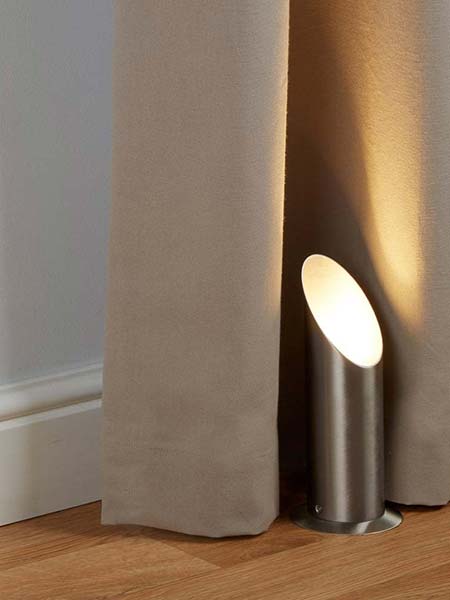 Using floor and table lamps can transform any room with low ceilings. They can provide ambient light and some can be used as a task light or reading lamp. They can brighten the dingiest corner and eliminate shadows. A bright floor or table top uplighter can bounce a beam of light off the ceiling and back into the room to dramatic effect.
A floor lamp can create an illusion of ceiling height and are available in a variety of styles and sizes. The only thing you need to consider is it's height. Not too tall and it will give an illusion of space. Proportion is everything!
A mother and child floor lamp is a great addition. It takes up little space and provides bright up lighting and a handy reading lamp. Placed next to a chair it can fulfill two functions. It bounces light off the ceiling and back into the room and also has a handy task light.
A pair of matching table lamps either side of the room not only give ambient light but also create an illusion of space by appearing to widen the room. Similarly, table lamps placed either side of a chimney breast give an illusion of depth by drawing the eye to the furthest wall.
Furnishing Rooms With a Low Ceiling
We don't profess to be expert interior designers, decorators or sell furnishings, but over the years we have learned some basic principles of great design.
Use as much natural daylight as possible. Placing mirrors opposite natural light sources makes a room much brighter and it appear larger too.
Use light colours in neutral or pastel shades to brighten the room and make it appear more spacious.
Using full length curtains can make your ceiling appear higher. Hang them from the highest point on the wall, all the way down to the floor.
Avoid clutter or overly large or tall items of furniture. As with everything, proportion is key.
Try and create a focal point in the room opposite the entrance door. It can be anything from a fireplace to a pair of table lamps or a coffee table. This draws the eye to the furthest point and gives an impression of space.
Common Questions Answered
Q) Why are flush and semi-flush lights suitable for low ceilings?
A) Flush and semi flush lights are perfect for low ceilings because they fit close to your ceiling. They provide ample light spread without protruding too far. Using a low hanging light on a low ceiling looks out of proportion and creates a bump hazard, these lights avoid this.
Q) Am I limited in size when selecting flush or semi-flush light?
A) A typical flush or semi-flush light is between 300mm and 600mm in diameter, or around 1ft – 2ft and will have a low profile. Many of the larger lights accommodate multiple light bulbs or a large LED array for bright lighting. For example, this Contemporary 8 lamp flush bronze ceiling light uses 8 capsule bulbs. Both are very bright and capable of lighting a good sized room.
Q) Can I dim flush or semi-flush lights?
Yes, almost all of our flush or semi-flush ceiling lights can be dimmed with a dimmer switch. This allows you to adjust the brightness to create the correct mood for your room. Just check that your bulbs are dimmable and that your dimmer switch is compatible. We have a comprehensive guide to dimming which can be viewed here. Some fixtures with in-built LED arrays are not dimmable however, so please ensure the light you are purchasing is marked as dimmable.
Q) Are there alternatives to flush or semi-flush lights?
If you have a modern home with low ceilings and you don't want anything decorative, then the obvious alternative is recessed downlights. Small, uniform circles of light, spaced at even intervals over the ceiling sitting as flush as possible while lighting your living space. Usually spaced between 1.2m and 2m apart and available in a whole host of finishes, they are usually dimmable and some use the latest LED technology. For further information, please check out our downlight guide which can be viewed here.
Still got questions or need further advice? Please call 0151 650 2138 to speak directly with one of our lighting specialists. Alternatively, you can ask your question using the contact us form and a member of out team will get back to you promptly.