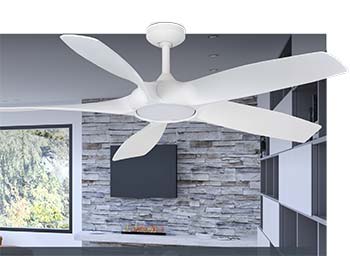 Fantasia are a British company and have pioneered the UK ceiling fans market since 1985. They have built a reputation for exceptional quality, value for money and an unrivalled 10-year guarantee. Here at Universal Lighting Services, we stock and supply the complete Fantasia range of ceiling and desk fans and are able to supply spare parts, accessories and technical advice. So, are they suitable for every room?
Can I Use A Fantasia Ceiling Fan In My Bedroom?
Fantasia fans are guaranteed to be virtually silent when on the lowest setting. They are a popular choice for bedrooms due to their stylish looks and variety of styles and finishes. If you want to get a good night's sleep, position your fan directly above the bed to cool you directly or at one end to circulate the air. A remote-control fan with lights fitted can be useful if you wake in the night.
Are Fantasia Ceiling Fans Suitable For My Conservatory?
Conservatories can get quite hot in summer and much cooler in the winter due to heat loss. We recommend that you go for the largest size model you can. This means that the fan will be effective at the lowest speed setting and a fan with reverse speeds can save you money during the winter months. Use your Fantasia fan in forward speed during the summer to circulate a cooling breeze and in reverse during the winter. The reverse function pushes the warm air trapped at ceiling height down into the room, thereby reducing heat demand and saving money. It is almost certain your conservatory fan will need a drop rod to look better and function more effectively.
Which Fantasia Fan For My Living Or Dining Room?
Fantasia Fans are flexible and available in a wide range of sizes and finishes, so there's bound to be one that matches your style. They are available in 36" to 56" diameter and with or without lights, so your ceiling fan can double as the main light too. Please see our room size recommendations below.
Are Fantasia Ceiling Fans Suitable For My Kitchen?

A Fantasia ceiling fan is the perfect addition to any kitchen no matter what size. The kitchen can get very hot and a well-chosen fan can be a wonderful addition and a welcome relief during the warmer months. Whatever your style of kitchen, there's a Fantasia ceiling fan that will complement it. Choose from traditional, modern or contemporary designs finished in white, nickel or brass to name a few.
What Size Ceiling Fan Do I Need?
Choosing the right size ceiling fan ensures that you optimise the fans efficiency and it looks in proportion. You need to consider the room size and the height and type of ceiling. As a rule of thumb, any ceiling fan should be no lower than 7' 6" from the floor. This is for safety and for the efficient circulation of air. You should always select the largest fan for the space to ensure efficient and silent operation on the lowest setting.
Ceiling fans are measured by the diameter of their blades. The blade sweep is the circular diameter you observe when the blades are turning.
What size is the room?
Less than 10ft square (Under 100sqft)
A 30" – 36" fan is recommended
10ft – 12ft square (120sqft)
A 36" fan is recommended. If the room is a conservatory, or south facing a 42" model is best
12ft – 14ft square (168sqft)
A 42" fan is recommended. If the room is a conservatory, or south facing, then a 52" or 54″ model is best.
More than 14ft square (196sqft)
A 52" or 54″ fan will cover an area up to 15ft square (225sqft). If the room is very large or a through room, installing two ceiling fans should be considered if practical.
Now that we have dealt with the room dimensions, we need to look at ceiling heights and what type of fan installation is suitable for your ceiling.

Which Fantasia Fan For My Ceiling Height?
7ft 6" – 9ft – Flush mount ceiling fan such as the Mayfair, Capri, Gemini and Amalfi.
9ft – 10ft 6" – Use a 12" drop rod. Please note that the Mayfair, Capri, Gemini and Amalfi – require a Conversion Kit to fit a drop rod.
10ft 6" – 11ft 6" – Use an 18" drop rod.
11ft 6" – 12ft 6" – Use a 30" drop rod
12ft 6" – 13ft 6" – Use a 48" rod.
Higher than 13ft 6" – Use a 72" rod which can be cut down to the exact size you need.
Please note: All drop rods can be oversized and cut down to suit your ceiling height.
How Do I Control Fan Speeds And Lights?
We stock and supply the full range of Fantasia fan controls.
Pull Cord: Many Fantasia Fans use pull cord controls. Every pull cord fan has three forward and three reverse speeds and can be upgraded to remote control or a wall mounted controller.
Wall Mounted Speed Controller: All Fantasia AC motor fans can be fitted with a wall speed control from which you can operate the three speeds. The wall speed controller operates the forward and reverse fan functions. Twin and earth wiring is required for the wall controller, so your property must have an earth loop.
Wall Mounted Speed Controller Light Dimmer: This acts as a speed controller for the forward and reverse functions and operates the integral light.
Full Function Remote Control: Many Fantasia Fans are supplied with a remote control. Most of those that are not can be upgraded to remote control depending on the model. The remote control operates forward and reverse functions and operates and dims the light if one is fitted. Twin and earth wiring is required to retro-fit a remote-control system.
Important Please Note: A standard dimmer switch must never be used to operate a Fantasia ceiling fan. Doing this represents a hazard and will irreparably damage the fan and dimmer.
Can I Use My Fantasia Ceiling Fan In Winter?
Using your Fantasia ceiling fan in reverse and on its lowest setting during the winter months can save up to 10% in energy. Really? Yes, really. When you turn your heating on, the first part of the room that gets warm is the ceiling. Because hot air rises, this is where it sits and it can be 15 °C warmer at ceiling height than at floor level. Using your ceiling fan in reverse pushes the trapped warm air downwards and circulates it throughout the room, so you can turn down the thermostat by a few degrees. Saving money and getting comfy too, what could be better?
So, what's stopping you? There's a Fantasia Fan for every room in your home except bathrooms. Stylish, silent and efficient cooling air, there's nothing better. With the whole range of styles to choose from, you're sure to be able to find just the right Fantasia fan to suit your style.
If you require any advice on Fantasia ceiling fans, or have any other enquiry, please telephone 0151-650-2138 or contact us.