All Private purchases outside Great Britain and in the EU are now UK VAT free. VAT is payable in the EU destination country for items purchased from Universal Lighting Services that are not manufactured in the UK and imported into the EU. We will supply all purchases to countries within the EU with a VAT free invoice.
Goods valued at less than €22 are free of VAT. If the value of the goods exceeds this threshold, VAT is payable at the rate of the destination country. For more information, please refer to the European Commission website. Please note: The value of the goods includes the purchase price, insurance and shipping costs.
What This Means To EU Customers
Universal Lighting Services are committed to provide you with a complete service and eliminate fees payable on delivery. To achieve this, we will collect VAT at your country rate and any import duty from you at the point of sale. This will be achieved under the DTP (Delivered Tax Paid) Incoterms 2021 scheme.
You will need to contact us with your enquiry in order to make any purchase for delivery to an EU country. We will ascertain the total cost, delivered to you and all relevant duty and tax paid. This means that you know the exact cost at the time of purchase, so ensuring seamless delivery to your door. Please see table for import VAT rates in EU countries.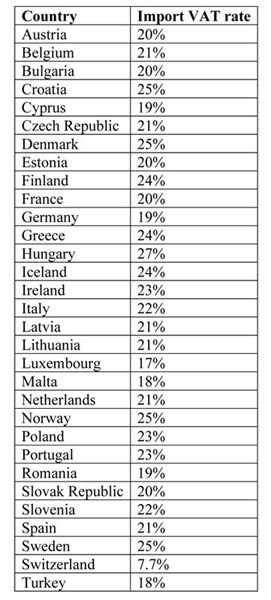 Duties will not be payable ('zero tariff') if your purchase originates from (manufactured in) the UK. However, if goods are imported to the EU via the UK from another non-EU country, duties at your country rate will be payable. Import duty within you country of residence will also need to be paid. This is approximately 5% of the purchase cost.
Business customers
Please note: Business customers cannot use the DTP (Delivered Tax Paid scheme as outlined above. Under the DTP Incoterms, you are unable to reclaim the VAT from your authority if you pay it through Universal Lighting Services. Business customers must pay the duty to the carrier in the delivery country in order to claim it back. Please note that you must have an EORI number to do this.
Countries outside the EU
Customers outside the EU will not notice any difference to the service we provide. The situation remains unchanged and these purchases are unaffected by The UK leaving the European Union.
To recap, if your delivery address is in the EU

Please contact us to make any purchase
All EU purchases are UK VAT free
VAT is payable in the EU destination country
We will use DTP when possible to ascertain the total cost, delivered to you
You should know the exact cost at the time of purchase
If you have any questions or are unsure, please contact us on +44(0)151 650 2138 or use the contact us form so that we may assist you.