Light Fittings And Lighting For Your Home
Welcome to our online shop where you can choose from a wide selection of light fittings for every room in your home, including outdoor lamps and lights for your garden from one of the best suppliers in the UK, with FREE delivery on orders over £75.00. We are proud of our Customer Service Guarantee which assures that you will be 100% satisfied with your purchase.
Our friendly, reliable and helpful service provides you with the information and guidance you require to make an informed choice. If you require help, advice or are looking for something special, please call us on 0151 650 2138, use the contact us form or visit our lighting showroom at Priory Street, Birkenhead for friendly, honest and down to earth service.
Find Your Perfect Lights Now!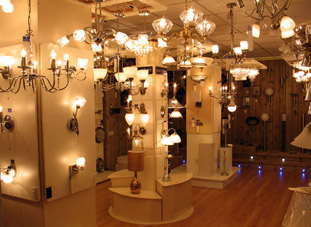 Quality Light Fittings Plus Our Exceptional Service
This secure online lighting website is owned and operated by Universal Lighting Services Ltd based at our showroom in Birkenhead, Merseyside. We are family owned and have supplied quality home lighting for every room in the house, including lamps and light fixtures for your garden, from our showroom since 1970. We provide exceptional service and have a wealth of knowledge and experience in the planning and selection of lighting for the home and garden.
In recent years we have focused on supplying quality British made light fixtures and fittings. We are proud of the fact that we probably have the largest range of hand-crafted and hand-finished British made lighting available anywhere in the country.
We have been online since 2004 to offer you a comprehensive range of lights and fittings for the home. We recognise that buying lighting online is not always about the lowest price; it's much more than that. It's about trust, choice, service and website security. It's about expert advice and the knowledge that whatever you choose will be of excellent quality and provide many years of service.
We know that without you we would not exist. We know that customer satisfaction is the key to continued success. We treat every customer as an individual rather than a statistic and provide an exceptional level of service whatever you buy. Our lighting specialists are able to give expert advice prior to and after your purchase, so that you can be sure that the fitting you have selected is suitable.
If you are local or passing our Wirral lighting showroom, please call in and see us. Ask as many questions as you need and spend as much time browsing our comprehensive ranges as you like. Enjoy coffee whilst sitting in the comfort of our snug and browse through the catalogues. If you are located further afield, in a far flung corner of the UK, don't worry, we've provided many helpful and informative guides available within our website to help you to make the right, illuminating choices.
We are here to help you with that process, before, during and after your purchase. If you have a question, please do not hesitate to get in touch by calling 0151 650 2138 so that we may assist you. Whatever light fittings you choose, they are going to be the centrepiece of your room or outside space for many years to come, so buying your lamps, lights, fittings and accessories should be both an enjoyable and informed experience.