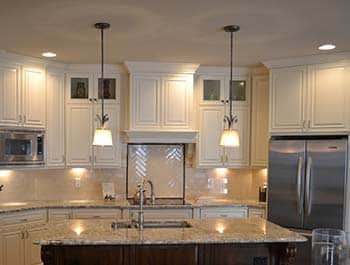 Introduction.
Ensuring that your kitchen lights are adequate is really quite simple, especially with a little help from our friendly Universal Lighting team. It does require a little thought and forward planning to get it right though.
If you have a large kitchen then the chances are that it is the main family room. More and more people are realising that the kitchen is or can be the heart of every home. It is not uncommon for the kitchen to be a place to cook, eat, study, read, play family games and watch television. It therefore follows that today's kitchen fulfills more than a single role, so choosing the right type of lighting can have a major effect on and complement the overall design.
Good kitchen lighting can help make a modest kitchen appear grand whilst making a larger contemporary space simply stunning. It can create the impression of spaciousness or can accentuate your appliances or any feature you wish, drawing the eye to wherever you want.
Perfect kitchen lighting can be achieved through the use of a combination of different types. These can be neatly divided into four main types, general, task, accent and ambient lighting. I shall deal with each aspect of the design and function in turn, with some tips on how to achieve the best results.
General Kitchen Lighting.
General lighting, sometimes called decorative lighting is the main lighting source in any space and the kitchen is no exception. It should be bright enough to illuminate the space on its own and includes natural daylight. In most kitchens this would normally be a ceiling light of some sort. This type of lighting is the most difficult to advise on due to the many differences in each kitchen. As a general rule of thumb, it is likely to be either recessed down lights, fluorescent lights, spotlights or a kitchen pendant.
Kitchen Down Lights.
Downlights are perfect for kitchens with a very low ceiling and available in a multitude of different finishes and styles, making it simple to get the look and finish you are looking for.
They are very easy to install and can be placed exactly where you want them to achieve the best lighting spread for your kitchen. They have the disadvantage of being quite expensive to run unless you use low energy or LED lamps. Please follow this link for further information explaining all about recessed downlights.
Fluorescent Kitchen Ceiling Lights.
People seeking to create a contemporary kitchen often overlook fluorescent fittings. This is mainly due to us remembering what the old fluorescent ceiling lights were like. Years ago, when you switched it on it was some time, even a minute or so before the light stopped flickering and remained on. Once on, some would buzz and flicker so much as to be annoying. This was due to the fact that they had wire wound ballasts and switch starters. Thankfully, those days are gone with the introduction of electronic ballasts with built in instant soft start.
There is nothing on the market today that can out perform a fluorescent kitchen ceiling light. They are four to six times more efficient than any other type of light source with the exception of LED and give an extremely bright flicker free light that is perfect for the modern kitchen.
Not so long ago, if you wanted a fluorescent fitting, the only choice available was the single or twin batten either with or without a dimpled plastic diffuser. Whilst these were very energy efficient and produced a lot of light, they were best suited to offices, garages and utility rooms.
There is now a massive choice of modern sleek glass and chrome designs to complement your kitchen and give you a wonderful bright light without shadows. Most kitchen fluorescent lights cannot be dimmed.
Kitchen Pendant Lights.
Not everyone is fortunate enough to be able to install a ceiling pendant in the kitchen, which is a shame as they are a wonderful addition to any traditional or contemporary kitchen space. Pendants require adequate ceiling height to be effective, although they can be positioned over a dining table or breakfast bar either singly or in a row for maximum effect.
They are available as fixed pendants that are adjustable at the time of fitting or as rise and fall lights that are perfect for over a dining table. Most tastes are catered for, from traditional ceramic pendants to modern chrome and glass designs.
Most kitchen pendants give a downward directional light making them perfect for worktop illumination where no wall cupboards exist and for over dining tables. When used in this way they should be placed so that the bottom of the shade is around 1000mm from the surface for best illumination.
Kitchen Task Lighting.
Kitchen task lighting is as the name suggests, lights fitted in such a way that they illuminate the task at hand making it easier and safer. In the kitchen, this will be mainly cooking or associated tasks such as reading a recipe and making a cup of coffee. Good task lighting will ensure that you have the same number of fingers that you started with after chopping the vegetables with your extra sharp knife.
The main areas in a kitchen that require good task lighting are directly above the cooker and above the work surface or worktop. If you have a bright and airy kitchen with plenty of windows, then you will probably only need task lighting early in the morning or during the evening. In addition, it is a very important secondary lighting source for any kitchen giving a low-level background glow if used on its own.
The best way to achieve adequate worktop lighting is by installing kitchen under cupboard lights. If you have a plinth around the cupboard base, then you are able to hide the lights completely should you so wish. It may well be that you want them on show to complement other objects in the kitchen. Under cabinet lights are available in many types and styles to complement almost any type of kitchen design.
Linear fluorescent under cabinet lights are very competitively priced and are efficient and effective in use, although they are now a little dated but continue to be popular. Fluorescent worktop lights are not dimmable.
They are available in different lengths and wattages from 6w – 30w in order that they may be fitted to different sized kitchen cabinets. They are mains voltage and have an on/off switch on the side so that they can be turned on and off independently of each other. They are linkable so that you only need a power feed from one end of the run.
Low voltage halogen under cabinet lights are bright, reasonably priced and are available in a multitude of styles and finishes from contemporary glass to solid copper. They are normally mounted on the underside of a cupboard and shine directly onto the work surface beneath. They are available to buy singly or in kits of three, complete with an easy fit plug and play transformer. Some are shallow enough to be completely recessed into the cupboard making them completely invisible.
The only disadvantage is that halogen bulbs run quite hot and you will have to replace the lamps regularly, although they are cheap to buy. Thy can be dimmed but you may need a specialist dimmer depending on the type of transformer used. To be effective, this type of under cabinet light should be installed every 500 – 600mm. This will ensure an even spread of light across the whole work surface and minimise shadows.
If you have granite, marble or any other stone worktop then this type of direct light can look stunning as it picks out pools of reflective highlights making them shine like diamonds.
LED under cabinet lights are becoming increasingly popular due to their modern look, low running costs and long lifetime. They are available in the same styles as low voltage lights and also in a linear strip. The linear LED lights come in either a flat or triangular profile depending on whether they will be in view or not. They are available in either cool white or a more yellow warm white and are dimmable. They are linkable so that you only need a power feed from one end of the run.
LED under cabinet lighting is more expensive than its halogen counterpart, but it is very cheap to run, extremely efficient and will last for years and years. It is truly a fit and forget  solution that will recoup the extra cost over its lifetime.
The quality of LED worktop lighting cannot be over emphasised. Once again, granite, marble or any other stone worktop will look stunning as the LED's pick out the highlights making them shine like diamonds.
Task lighting above a cooker will normally be taken care of by installing a cooker hood or extractor with built in lights. If it is not possible to install an extractor hood then careful placement of one or two down lights directly above the cooker will achieve the same result.
Even though this type of lighting comes firmly under the heading of task lighting, it can also be used on its own to create a romantic low level background light for those intimate evenings together or when entertaining.
Kitchen Accent Lighting.
So what exactly is accent lighting? Simply put, accent lighting is any type of lighting that accentuates any object.
Good examples include lights placed inside a glass cabinet to show off your best china, crystal glasses or any other precious objects. These would normally be of a similar type to under cabinet lights placed on the cupboard top shining downwards.
Another could be a single spotlight shining on a picture, shelf, and wall hanging or similar. This could take the form of an adjustable recessed down light or wall spotlight. There are even illuminated glass shelves that perform this function perfectly.
Good use of accent lighting can create an extra dimension to your kitchen by highlighting certain features that you want to stand out. In addition, it can be used on its own or in conjunction with your worktop lighting to create a romantic low level background glow for those intimate evenings together or when entertaining.
The application will vary greatly from kitchen to kitchen and cannot be fully covered within this article. Hopefully these few paragraphs will give you some idea of what to look for when thinking of ideas.
Kitchen Ambient Lighting.
Ambient lighting is probably the most overlooked type of lighting, yet it gives the most stunning effect and can transform a kitchen better than anything else.
So what exactly is ambient lighting? Ambient lighting is when the source of the light cannot easily be seen. It will generally cover the whole of the room and will contrast with directional lighting.
A good example of ambient lighting would include strip lights placed on top of kitchen cupboards shining directly up onto the ceiling. The light would then be bounced back into the room off the white or lightly coloured ceiling creating a warm soft glow.
Use your imagination to find places where the source cannot be seen and the light is bounced off the room surfaces to create a beautiful welcoming atmosphere.
Finally, there are many ways to add a little bling and practicality to your kitchen design. Small LED plinth lights look fantastic, are extremely energy efficient and also play a practical role too. What could be better than leaving them on at night to give a soft warm glow to the kitchen? Perfect for welcoming anyone coming home late or preparing the babies night feed.
Set a budget for your kitchen lighting and use your imagination to create the perfect design for your needs.
If you needed any further information or advice on any aspect of kitchen lighting design, please call 0151 650 2138 or use the contact us page and we will be extremely happy to assist you.