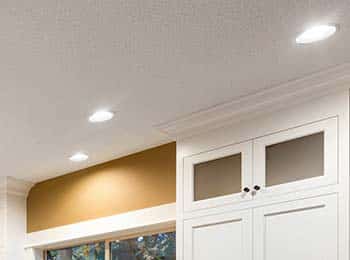 Introduction
Here you will find all of the information you will need to help you decide on how many and what type of downlight is best for you.
So, you are considering installing recessed downlights and are unsure of what type to get and the regulations surrounding them? We have recently been asked by our showroom customers, questions such as "How many down lights do I need?" and "Do my down lights need to be fire rated?" Whilst every situation differs slightly, I have written this guide to provide some information that may be helpful.
Down lights are becoming increasingly popular and for good reason, especially in kitchens and bathrooms. If chosen carefully and installed in the correct numbers, down lights are capable of giving a gentle, even and shadow free light. It is also possible to save a great deal of energy if you choose mains voltage down lights fitted with high spot LED lamps.
All of the down lights described below are available in every finish, including white, chrome, satin chrome, polished brass, satin brass and satin nickel.
Downlight Fixing
A down lighter is usually a pressed steel or cast aluminium lamp holder with a decorative fascia that is held into the ceiling using either spring clips or compression clips. Spring clips are exactly that. The springs have to be pushed to the vertical and the fitting inserted into the hole. As you push the fitting in, the springs are forced downward onto the ceiling holding the downlighter in position. Compression clips are slightly different. These are not sprung but have a lug on the side that engages with the side of the opening forcing the retainer down onto the ceiling to hold it in place.
Types of Downlight
Fixed:
Fixed down lights are a decorative downlighter that has a fixed centre. The lamp is usually fixed within the holder either by using a spring clip or by a twist lock mechanism. The spring clip is compressed a little and placed over the front of the lamp where it then expands and sits within a groove holding the lamp in position. The twist lock is normally used in higher quality cast aluminium fittings where the front of the fitting has a removable section that twists and locks into place holding the lamp in position.
Gimbal:
A gimbal downlight is constructed in the same way as other down lights. It is secured in the ceiling the same and will normally have the same type of lamp retainer. The main difference is that the centre of the fitting can be tilted allowing adjustment of the spotlight beam. These can be an advantage if you want to direct the light slightly towards a breakfast bar, kitchen worktop or something similar.
Eyeball:
An eyeball down light is similar to a gimbal but can be adjusted through a greater range. It has a protruding eyeball containing the lamp. This eyeball can be adjusted as desired.
Wall Washer:
These are mounted in the ceiling but they are very different in their application. Wall washer down lights have the lamp contained within a hinged housing that can rotate to 90 deg. These are used to shine light onto the walls as opposed to straight down.
Mains or Low Voltage?
Mains Voltage Downlights:
Modern mains voltage down lights generally use a GU10 halogen lamp in either 35w or 50w. These give a good quality light and can be dimmed using a standard dimmer. If you decide to use a dimmer, it is important that the dimmer is over rated by around 25%. So, if you have 6 x 50w GU10 lamps, then you would need a dimmer of at least 375w. In reality it would be a 400w dimmer.
GU10 LED Lamps can be used in these fittings. They are available in 3w, 5w or 7w. A 3w LED = 35w GU10 and a 5w LED = 50w GU10. These have a number of advantages over the GU10 halogen light bulb.
Advantages:
Huge savings on electricity costs.
Different colour temperatures are available.
Over 35000 hours lifetime.
Disadvantages
Dimming LED versions can be expensive.
More downlights required for the same light output.
Low Voltage Downlights:
The first thing to mention is that low voltage does not mean high efficiency or low energy. In fact, low voltage down lights consume more energy for a given wattage than mains voltage.
Advantages:
Low voltage lamps give a crisper whiter light.
The light bulbs tend to last a little longer.
Lower wattage required for the same light output.
Disadvantages:
A transformer is required.
Require a special type of dimmer.
Generate a lot of heat.
Low voltage down lights require a special type of dimmer to work properly. You will need either a leading edge dimmer or a trailing edge dimmer depending on the type of transformer you are using. Most transformers will state what type of dimmer is required on the casing. If in doubt please consult a qualified electrician.
Downlights in Bathrooms:
Please take great care when choosing down lights for a bathroom. Generally they will need to be suitably IP rated to protect against the ingress of water. Full information on bathroom regulations can be found on our bathroom light zones page.
Fire Rated Downlights:
A fire rated downlight can stop the spread of a fire between floors. Once a hole is cut into the ceiling, it loses its fire stopping capability allowing the fire to spread between floors through the hole. A fire rated downlight has a special material called an intumescent strip attached to it. In case of fire, the high temperatures cause a chemical reaction in this strip causing it to expand and bridge the hole stopping the fire spreading through it.
For commercial applications, new builds and for properties that are rented out, all downlights must be fire rated when installed in a ceiling with living accommodation above. The minimum fire rating is generally 30 minutes but 60 minutes is desirable. In other situations, it is entirely up to you but we would always recommend using fire rated down lights when there is living accommodation above. If in doubt, contact your local council building regulations office who will advise you.
How Many Downlights Do I Need?
This is the most often asked question we get. There is no hard and fast rule and each room may be different depending on its shape and the use to which it is being put. As a general guide, for ambient lighting in a rectangular room, mains and low voltage recessed down lights should be between 1.6m – 2m apart in every direction. Before deciding where to place the downlights it is important to ascertain where the ceiling joists run. Once this has been established it will become clear where they should be placed. Keep the first down light between 0.8m and 1m away from the wall. Any closer and the light will run straight down the wall and show up every imperfection, even on newly plastered walls.
If you are going to use 3w LED GU10 light bulbs, then the calculation is slightly different. The first downlight still needs to be around 0.8m from the wall but the spacing needs to be reduced to 1.3m – 1.7m apart in every direction. This increase in light fittings offsets the reduction in light output from the LED lamps.
Finally, this article is meant to be a general guide to assist you in deciding on the type and position of your down lights. It is not intended to cover every aspect of wiring or building regulations.
If you require more detailed information, please call 0151 650 2138 to speak with a lighting specialist directly or use the contact us, form and a member of our team will answer your query promptly. Alternatively, you can consult a qualified electrician or contact your local authority building regulations office.